Fashion Sensation - French couture - Brief Article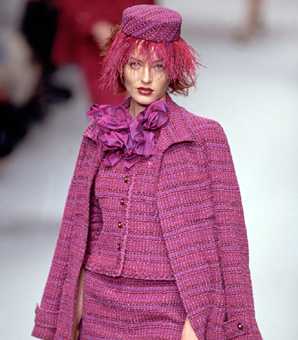 It's dazzling, dramatic, dynamic and more. It's the take-your-breathe-away excitement of French Couture that can only be described as a Fashion Sensation!
For your fashion pleasure consider a body-clinging jumpsuit cut to there, a lacy, racy ensemble that dares to bare, a strapless mini cocktail dress that puts all eyes on you, and a conversation-stopping chiffon, floor-length evening gown adorned with an explosion of Swarovski crystals. Clearly French fashion stars from Jean-Louis Scherrer to Emanuel Ungaro to Pierre Balmain are determined to stop at nothing in order to dazzle and delight you.
Celebrate the first true year of millennium in the captivatingly feminine and strikingly seductive designs that will surely cause a fashion sensation.
Valentino design long-sleeve Cocktail ensemble with crisscross gathered bodice accordion pleated above-the-knee skirt and matching accordion-pleated wide-brim hat.
Long-sleeve turtleneck jumpsuit by Jean-Louis Scherrer with open front slit from neck to waist, large gold-plated brooch decorated with black jet and diamonds at waist and blouson pants open from hip to ankle band. Accessorized with large earrings and fancy hair decoration.
Emanuel Ungaro design evening ensemble with lace bodice, three quarter-length sleeves with circular, hand-painted flounce. Lace and satin front bodice, has one hip floral decoration, circular lace skirt opens in front. Note: exotic hair decoration, ankle strap sandals and drop earrings.
Aztec-print evening ensemble by Pierre Balmain with vertical stripes to horizontally striped border. Accessorized with bold metalic belt, pearl necklace and round earrings, Note: pin cushion-type Hairdo.
Swirling wrapped satin evening dress draped to one side with feather-decorated neckline and hand-painted motif around waist, worn under all-over feathered, floor-length coat by Ungaro. Accessorized with long drop earrings to bust.
"I'll keep my eye on you with my mouth closed" says Lapidus with his mini strapless cocktail ensemble accessorized with one-eye bracelets. Note: Unusual hair design.
Balmain designs boat-neck, sleeveless chiffon evening ensemble with Swarovski crystal bodice and skirt reminiscent of explosive fireworks. Accessorized with wide necklace, drop earrings and bracelets on each arm.
Hanae Mori designs black and white evening ensemble with oval neck front and low, V-cut back with straps and decorative abstract-designed skirt with wide black border at bottom.
Satin scoop-neck lace-up front corset top with large bow at waist and marabou-feathered, above-the-knee skirt by Lapidus is accented with white mules and long drop earrings.
Hooded, boat-neck, long-sleeve, draped chiffon bodice with to-the-floor chiffon skirt with side-high inverted draped gusset from hip to floor by Dominique Sirop.
Jean-Louis Scherrer design skin-tight black lambskin leather jump-suit, worn with long, dark brown mink coat trimmed with black persian lamb, black goat and yellow fox. Accessorized with knee-high black lambskin leather boats with black goat trim.